SESSION DATES & RATES – 2023
Session Rates & Camp Program Overview
4-H members receive a $40 discount on all sessions
A $250 deposit is due at registration for full week sessions
A $110 deposit is due at registration for mini camp
Seeking financial aid this season? We have campership money available. Fill out an application to be considered for a full or partial campership this summer.
Mini Camp
2 Days (Weds/Thurs)
Mini Camp is for campers ages 7-9. Mini Camp is a once a summer event where campers stay at camp for two days and one overnight in the cabins. During Mini Camp, campers will make arts and crafts, explore nature, visit the horses at the barn, go swimming and play sports. There will also be a campfire and songs before bedtime. Arrival is at 10am on Wednesday and departure is Thursday at 7:00pm.
"Bring Your Own Horse" Camp
Sun - Sat / One Week
Bring Your Own Horse campers need to be fully independent in horse care tasks as well as tacking and un-tacking. For ages 11-18. Horse campers will also need to supply their own hay since we will not have it in bulk as in previous years. Bring-Your-Own-Horse Camp will take place Sunday to Saturday. There are also camp horses available for lease at an additional fee for experienced riders. Arrival is staggered from 2 – 4pm  on Sunday and departure is Saturday after breakfast at 9:30am.
Overnight Camp
Sun - Sat / One Week
Overnight Camp is for youth ages 9 through 15 and is held in seven one-week, coed sessions. Campers participate in programs, campfires, and classes such as; Archery, Swimming, Boating, Nature, Arts & Crafts, Recreation, Outpost Camping, Soccer, Field Games, Street Hockey, Nature, Outdoor Cooking, Frisbee Golf, Biking and more. Combined with new and old friends, these activities give campers many choices for a wonderful camp experience.  Arrival is staggered from 2 – 4pm  on Sunday and departure is Saturday after breakfast at 9:30am.
Table Title
Subtitle goes Here
Beginner Horse Program
Sunday - Saturday / One Week
This program is designed for the kid that doesn't have the opportunity to be around horses on a regular basis but would love to. For ages 11-18. Campers would attend the Horse Week of camp and will work with our camp horses individually and in small groups.  They will be able to learn about all aspects of horses including daily care, grooming, tacking and riding.  Campers will have the chance to try English and Western riding styles and will get to watch experienced campers to see which types of riding they prefer.  

These campers will live in cabins and do activities and programs with campers enrolled in the Bring Your Own Horse to Camp program.
Table Title
Subtitle goes Here
Sample Horse Camp Activities
Western, Hunt Seat, Driving & Dressage Instruction

Clinics from Professional Trainers
Trail Riding
Bareback Riding
Drill Team
Judging
Showmanship and In-hand Instruction
Stable Management
Horse Care
Tack Care
Swimming and Recreation
And much more! 
Horse Health and Condition
Horses so classified may be sent home at the discretion of the Horse Camp Director. Horses must be properly trimmed or shod. State law requires an updated rabies vaccination. We require a Coggins test for Equine Infectious Anemia and strongly recommend Strangles Immunization. Strangles was on the property in 2017 and there is conflicting information about the length of time it can survive in soil. Please consult your vet.
Please check with your veterinarian before coming to camp about the advisability of immunizations for Tetanus, Equine Influenza, and Encephalomyelitis (Eastern, Western).
What to Bring to Horse Camp
What to Bring for your Horse:  
Horse tack, tack box, halter and a lead rope

All grooming tools – including fly spray (labeled with your name) and bathing tools

Grain in a covered container (a garbage can, etc)

Hay (hay bags/nets/feeders are welcomed!) 

Water buckets & feed containers – including all equipment needed to hang them up

Manure fork, muck bucket or wheelbarrow
Note: 2 bags of shavings are provided. Additional bags of shavings can be brought from home.
What to Bring for Yourself:
Riding boots (no sneakers or wedge heels for riding), appropriate ASTM/SEI approved headgear (all forms of riding MUST wear a helmet), riding clothes, pillow, sleeping bag or four blankets & a sheet, clothing, rain gear, barn boots, swimsuit, towels, and lots of socks to ward away blisters.  A bag for dirty laundry is most helpful. Also, don't forget bug spray and sunscreen!
What to Bring
Overnight Camp Schedule
7:00 Reveille/Morning Dip
7:20 Waiters report to Dining Hall
7:35 Flag Raising/Morning Exercise
7:45 Breakfast
8:30 Clean Cabin/Visit to Nurse
9:00 First Activity
10:00 Second Activity
11:00 Free Time (free swim, recreation, showers)
12:00 Lunch
12:45 Rest
1:30 Tribe Meetings
2:00 Third Activity
3:00 All Camp Afternoon Program
4:00 Free Time (free swim, boating, recreation, showers, planning evening activity)
5:50 Flag Lowering
6:00 Dinner
7:15 All Camp Evening Program
8:30 Snack, Newspaper, Vespers
9:30 Bedding Down
10:00 Taps
Camp Dates 2023
| | |
| --- | --- |
| Session | Dates |
| Bring Your Own Horse Camp | June 18 – June 24 |
| Mini Camp | June 21 – June 22 |
| Week 1 | June 25 – July 1 |
| Week 2 | July 2 – July 8 |
| Week 3 | July 9 – July 15 |
| Week 4 | July 16 – July 22 |
| Week 5 | July 23 – July 29 |
| Week 6 | July 30 – August 5 |
| Week 7 | August 6 – August 12 |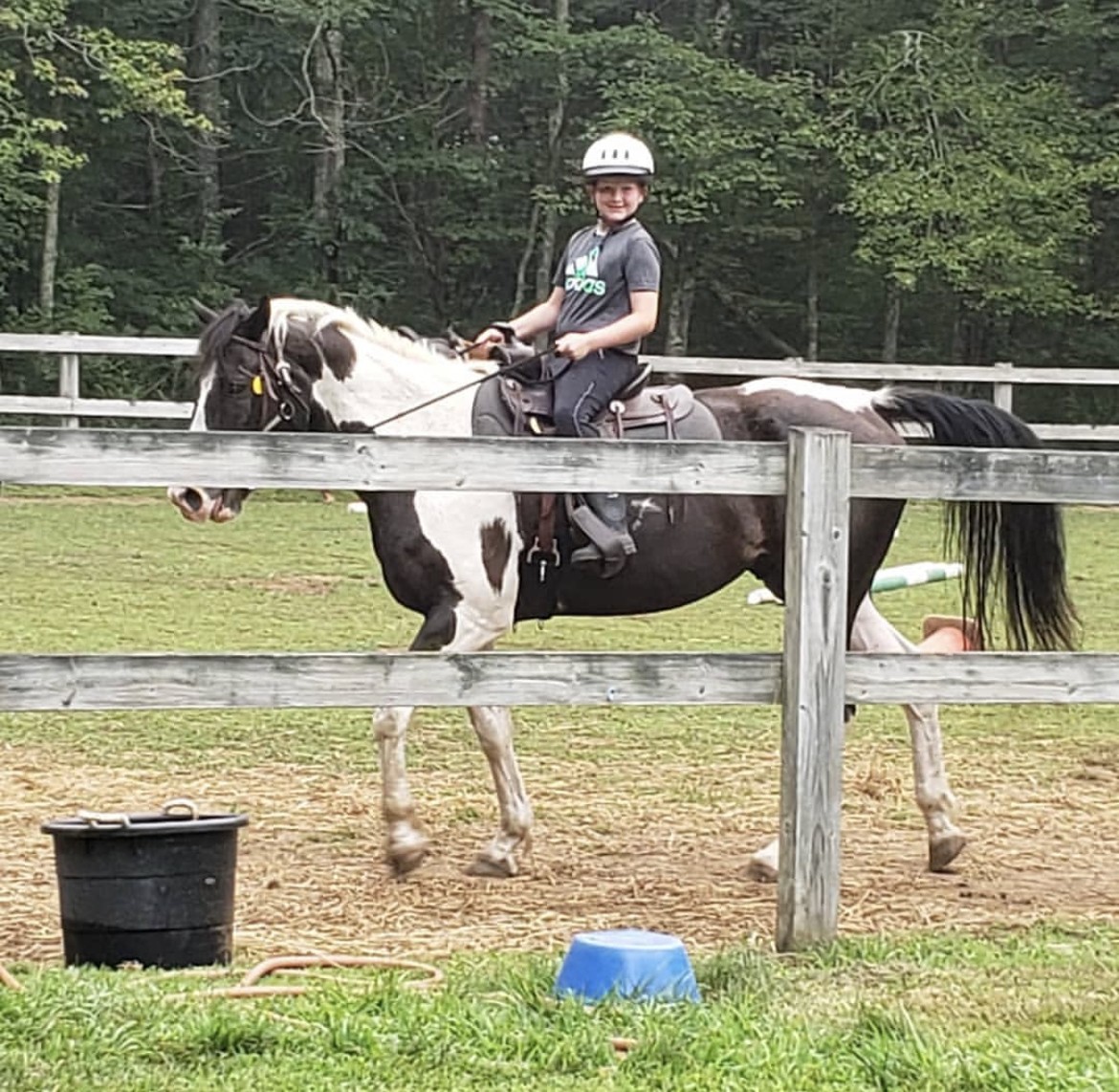 Horse Activity Add On - $140
Overnight campers have the option to sign up for Horse Activity while at camp. Horse activity is available as an add-on during registration at an additional cost. Campers that sign up for horse activity will get four horseback riding lessons during their week at camp. All ages and experiences are welcome!
Need help or have questions? Submit a help desk ticket!
Our volunteer staff will do our best to get back to you as quick as possible. Please provide as much information as possible so we can best answer your question and provide support. Thank you for choosing Hartford County 4-H Camp!
Request Help